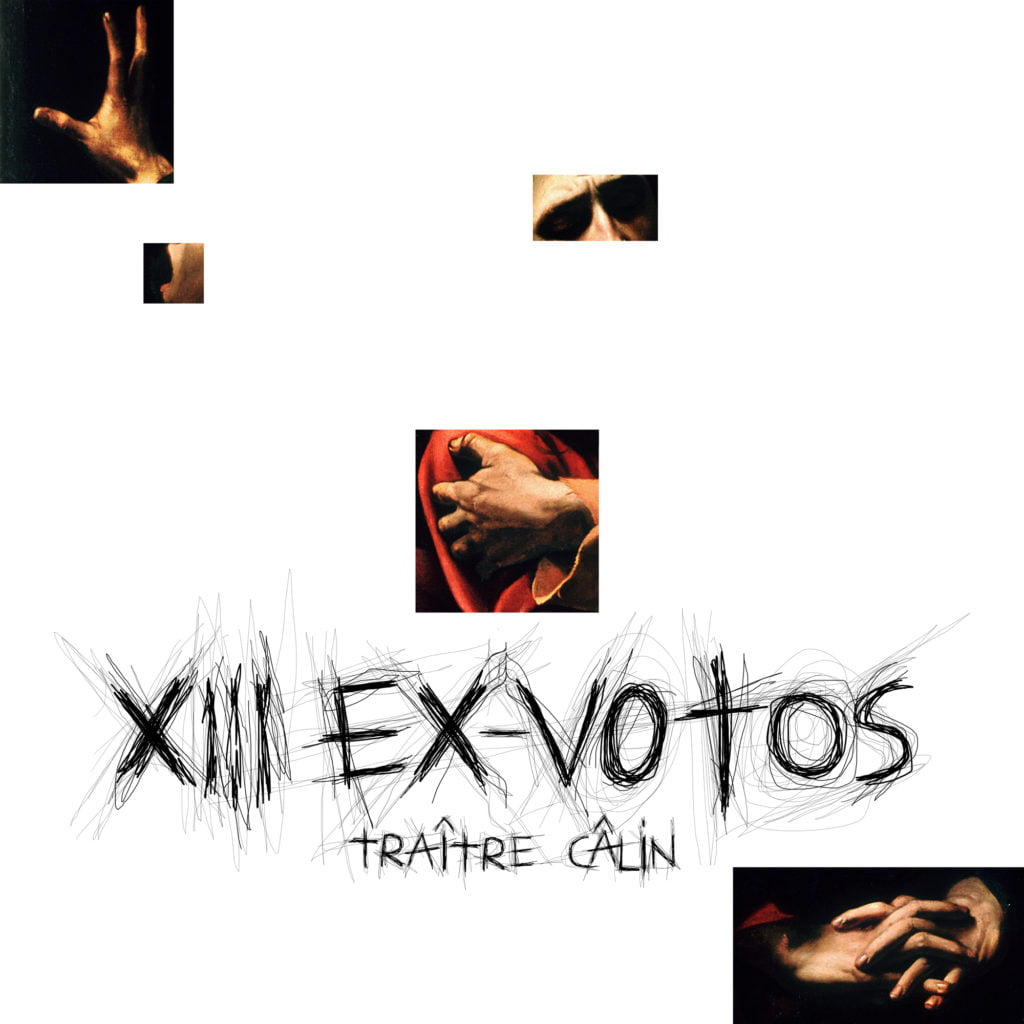 1. SAOUL DE SANG 02:58
2. LIBRE EBRIETE 02:30
3. ARME AUTOMATE 03:14
4. DORICA CASTRA 04:40
5. SALE SOMBRAGE 04:46
6. NOIR DE NEANT 06:40
7. VERTUEUX VICE 03:18
8. CIELS SENILES 02:21
9. AGONIE AGACEE 03:16
10. FEU FOLLE FOI 03:51
11. ORGIE D'ORAGE 02:20
12. ODIEUSES ODES 03:51
13. VAINE DEVEINE 02:04
Released October 13, 2020
Traître Câlin = nAda + Jbaâl
Composition, interprétation, enregistrement, mixage, artwork :
Traître Câlin @ Studio Planet Caravan & Cafard Nord
Master : Arthur Rizk
Guitares sur DORICA CASTRA : Olivier Torre & Thomas Viti
Batterie sur NOIR DE NEANT : Vighjatore
Traître Câlin is a duo; four armed Janus, originally cradled within antique myths and their immortals: the Mediterranean sea, Corsica. Faint mystery surrounding the band's name, Judas, the traitor, an embrace with a dagger, the oxymoron never opposed the duo. Partners in music and drinking brothers since always. It's in 2018 that a first project was conceived. Born from a drunken idea, an ambient microphone, a torn Bible, four synths, literary automatism and an endless love for wickedness.
At the beginning was Par Traitrise, the first EP, evangelically surrealistic, with a chanted voice dancing with the noise, seeking solid ground with analog tones and a macabre writing style, reeking of experimentations. Capernaum partially controlled (often the Beast, instinctively precedes his Master), escorted inevitably with a hangover once finished, to the creation of a first album.
XIII EX-VOTOS (13 ex-votos), revives the idea of these marble offerings, these wishes, these ex-votos nailed to the walls of churches. Achieving a fresco composed of 13 different titles, many anti-prayers thrown in the decayed faces of dead deities, who have perished, Thank God, eons ago. A will of steel it takes to walk on divine fatalism, a fuse Nietzsche lit before spiraling down and molding himself into the bland copie of Hybris, that is insanity.
Digested long ago, the various musical and literary influences of this duo are here regurgitated, translated by synths who are sometimes ethereal, oftentimes grainy, which compose the noise orchestra of the band. The voice, a bitter companion to the sound, endeavors to establish rhythmic lies Traître Câlin would like to be truths. As serious as a joke, the proliferation of aphorisms, dictated by alcohol and Christic despair, a monkey in poetry and the quest for fine words. This chastised vocabulary is ultimately a trap to a divinity castrated by time.
Traître Câlin est un duo, Janus à 4 bras originellement basé au milieu du berceau des mythes antiques et des immortels : la Méditerranée, Corse. Peu de mystère autour de l'appellation du groupe, Judas, ce traître, câline au couteau et l'oxymore n'a jamais contredit le binôme. Compagnons de musique et de beuverie depuis toujours, c'est en 2018 qu'un premier projet s'accouche. Né d'un hasard alcoolisé, d'un micro d'ambiance, d'une Bible déchirée, de deux synthés, d'un automatisme littéraire et d'un amour sans faille pour la méchanceté.
Au commencement était Par Traîtrise. Premier EP évangélico-surréaliste où la voix scandée, s'acoquinant du bruit, balbutie les premières bases d'une sonorité analogique et d'une écriture à l'automatisme macabre au relent d'expérimentation. Capharnaüm à moitié contrôlé (car souvent la Bête, d'instinct, précède son Maître) qui amena fatalement, la gueule de bois enfin terminée, à la création d'un premier album.
XIII EX-VOTOS (13 ex-votos), reprend l'idée de ces offrandes de marbre, ces vœux, ces ex-voto que l'on trouve cloués aux murs des églises. En résulte une fresque composée de 13 titres différents comme autant d'anti-prières jetées à la gueule décomposée des divinités déjà mortes depuis, Dieu merci, bien longtemps. Une volonté ferreuse de marcher sur le fatalisme divin de ce que Nietzsche amorça avant de sombrer totalement dans cette pâle copie de l'Hybris qu'est la folie.
Digérées depuis longtemps, les multiples influences musicales du duo sont ici régurgitées, traduites par les synthés parfois éthérés, souvent granuleux qui composent l'orchestre bruitiste du groupe. La voix elle, compagnon d'amertume de la sonorité, s'efforce d'affirmer des mensonges rythmés que Traître Câlin aimerait être vérité. Aussi sérieux qu'une farce, la multiplication d'aphorismes dictée par l'alcool et le désespoir christique, singe la poésie et la quête du beau mot. Mais ce vocabulaire châtié n'est finalement qu'un piège à l'égard d'un divin châtré.